Preferred Buyer Program
[Your Guarantee | Our Pledge To Buyers | Our Mission | Commitment & Loyalty to You | Newcomer FAQs ]
Helpful Links
About Mortgages | Mortgage 101 | Home Buying FAQs | First Time Home Buyers
Payment Calculator | Rent vs. Own Calculator | 15- vs. 30-Year Mortgage Calculator
When you sign up for our PREFERRED BUYER program you will automatically receive property information via e-mail as soon as it comes on the market. When you receive one you like, just call us for a private tour!
Fill out this short form (takes about a minute or so), our team will start researching homes to fit your needs. At the same time, one of us will contact you personally to answer any other questions you may have!
Remember, the more information you can provide us on the home of your dreams, the easier we can help you move!
items with a red * are required

|| Home | Preferred Buyer Program | Homes For Sale In Montgomery Area | Relocation | RE/MAX International | E-mail Us ||
|| Montgomery, Alabama-Newcomer's Guide | How To Sell Your Home Faster | Moving Tips | What's a Miracle Home ||


4215 Carmichael Rd. Montgomery, AL 36106
Buyers Specialist: Betty Cannon, 334-224-8311
Sellers Specialist: Cheryl Ashurst, 334-224-8222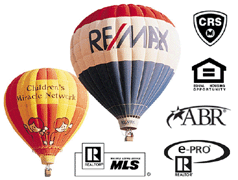 All information deemed reliable but not guaranteed and should be independently verified.
Though one may be overpowered, two can defend themselves. A cord of three strands is not quickly broken.
Ecclesiastes 4:12
The best real estate agents to help you move your home whether you are Buying, Selling, Building and Relocating in Alabama-Montgomery, Prattville, Millbrook, Wetumpka, Lake Martin, Lake Jordan, Montgomery county, Elmore county, Autauga county